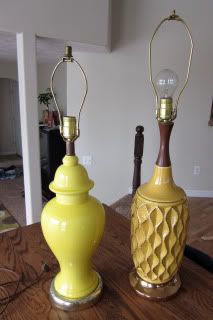 Love at first sight. I spotted these beauties at a ma and pop furniture shop last week, and when the guy offered them both to me for $20 I couldn't resist! (He normally charges $25 each!) Well, luckily Jon couldn't resist my puppy dog eyes, and he gave me the go ahead to get them. I felt pretty cool when I spotted an almost identical lamp to the one on the right in a

home tour of Amy Ferstenau's house

. I think she's hip and cool, and her house is pretty bodacious, so seeing that we both had the same lamp made me feel cool for 2.5 seconds. I am trying to figure out what to do for shades. I might buy a cheap white one and recover it for the lamp on the left. Finding the right shade for the one on the right could be trickier. I can't wait to use these beauties, but for now they are tucked away safely so Rowan doesn't break them.