I hosted a wee little shin dig at my house a week ago. Having been in the church nursery pretty much since I moved in nine or so months ago, (I got released a few Sunday's ago) I was still getting around to meeting people who were taller than 3 feet in height. I figured the best way to really meet the young moms in my ward was to jump in with both feet and invite them over to my house. I am all for using food for bribery, so I decided to host a brunch. I thought about all the young moms I had seen at church, but knew very little, or not at all, and began spreading the word about having a get together at my house. I was happy that so many of them were all on board and eager to have a girl's get together. About a week or so before the event I hand delivered the invites I had made along with a mini loaf of banana bread. I got my banana bread recipe from Shelley at
House of Smiths
. Go
here
if you want the recipe.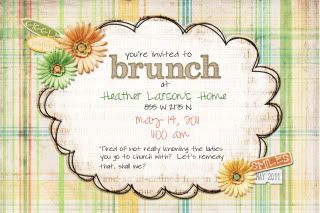 The night before the party I was up past my bedtime. Not that I have an early bedtime, but my attempt to get some of the cooking and decorating done the night before the 11am brunch kept me up until at least two. I think at 2 am I just stopped looking at the clock. It was a smart move though, cause even with all the prep I did Friday night, I was still running around like a mad woman Saturday morning.
Here is the table all set and ready for guests to arrive. On the menu; this breakfast casserole and these cinnamon rolls, recipes courtesy of the girls over at Our Best Bites. Fruit kabobs and Oreo pops- Oreos on a stick dipped in white chocolate. Two of the girls helped out by bringing some pita chips with hummus, and chocolate chip bars. Is it just me, or is brunch food the best?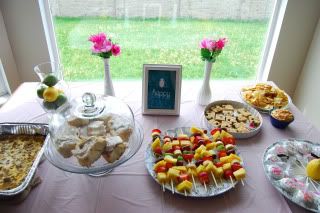 For table decor I didn't go too crazy. I put the cinnamon rolls on my cake stand, the fruit and Oreo pops on some huge black and white plates I got from Pier One when I got married. For some pops of color I put some lemon and limes in vase, as well as some flowers from the dollar store. I also got free "bee happy" printable from
Sprik Space
. They offer lots of free prints, and I plan to get more, but I thought the "bee happy" one was a nice touch for the table. Go
here
to see all the free prints they have! Their prints come in a variety of colors, but I thought the turquoise would look great with the color scheme I went with for the party. The white frame I already had, so that was a cheap decoration that is now sitting in my craft room. I also made a bunting banner. Also a free decoration. More on that later.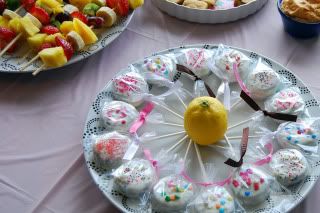 A closeup of the Oreo pops. Easy to make, and yummy to eat. I had all of the girls take a couple of these on their way out. Great party favors, and can easily be made to match party colors by dying the chocolate, getting the right color of sprinkles, and by tying it with your choice of colored ribbon.
Another fun thing I did was borrow my friends mustaches on a stick for pictures. Here's the group of girls- minus Melanie and Andrea who had left by this point. And below are all their mustache mugshots.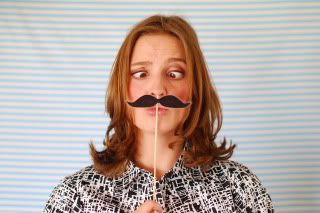 I had a lot of fun planning and putting together this whole brunch. It was definitely worth the time and effort. I got lucky with a ward full of fun girls, and I look forward to more parties and good times with them in the future.